.
LE CHEMIN DU RETOUR
2017, 113 flagstones, 2 x 60 x 2500 cm
Installation view at the Jardin des Tuileries, Fiac hors-les-murs 2017 with galerie anne barrault and the support of Sogépierre. Photos Aurélien Mole
Le Chemin du Retour (The Way Back) consists in a sentimental itinerary, realized with the use of garden tiles.

The itinerary corresponds to a past trajectory, dear to the artist and undergone regularly by her when she was living in Paris. Departing from her Parisian flat of the time, it lead

her to the Tuileries Garden.

Originally crossed by the artist by foot, the trajectory is reconstituted with stone tiles, which help crossing fragile or impracticable parts of a garden. Carved in order for their

exterior outline to correspond to the trajectory, the tiles allow the garden visitors to mentally go through it. Following the steps of the artist, they travel on this personal and

sentimental path, which, if it sometimes uses unknown streets or detours, also includes famous monuments, avenues and the river of the capital: the school of Fine Arts, the

Louvre museum, the Seine.

The trajectory no longer evolves on the map of Paris, but on an abstract surface of the Tuileries garden; much longer initially, it is now entirely contained in a parcel of the

garden, huis-clos or small world in itself. Now an abstract line, a drawing, the trajectory doesn't have the same departure point anymore, and can be crossed one way or the

other.

This nostalgic itinerary leads the visitors, at its own rhythm, into a meditative walk on The Way Back.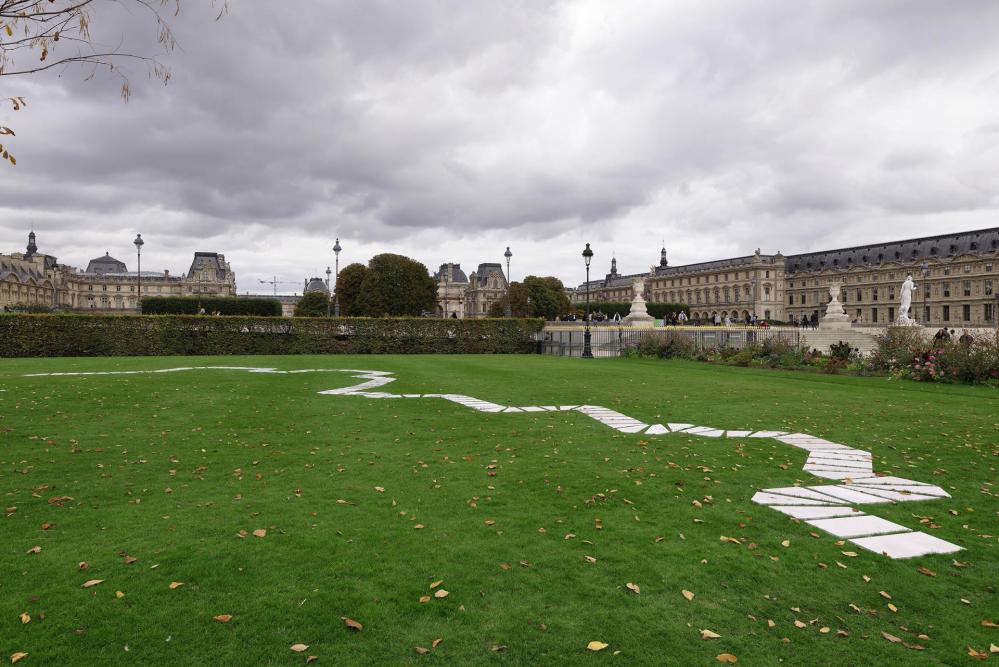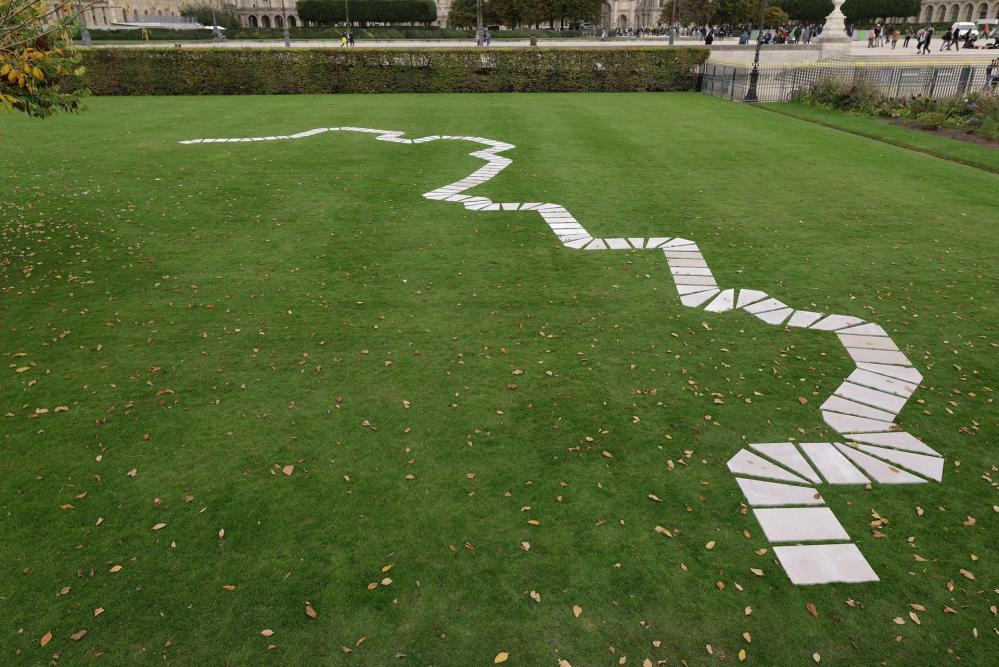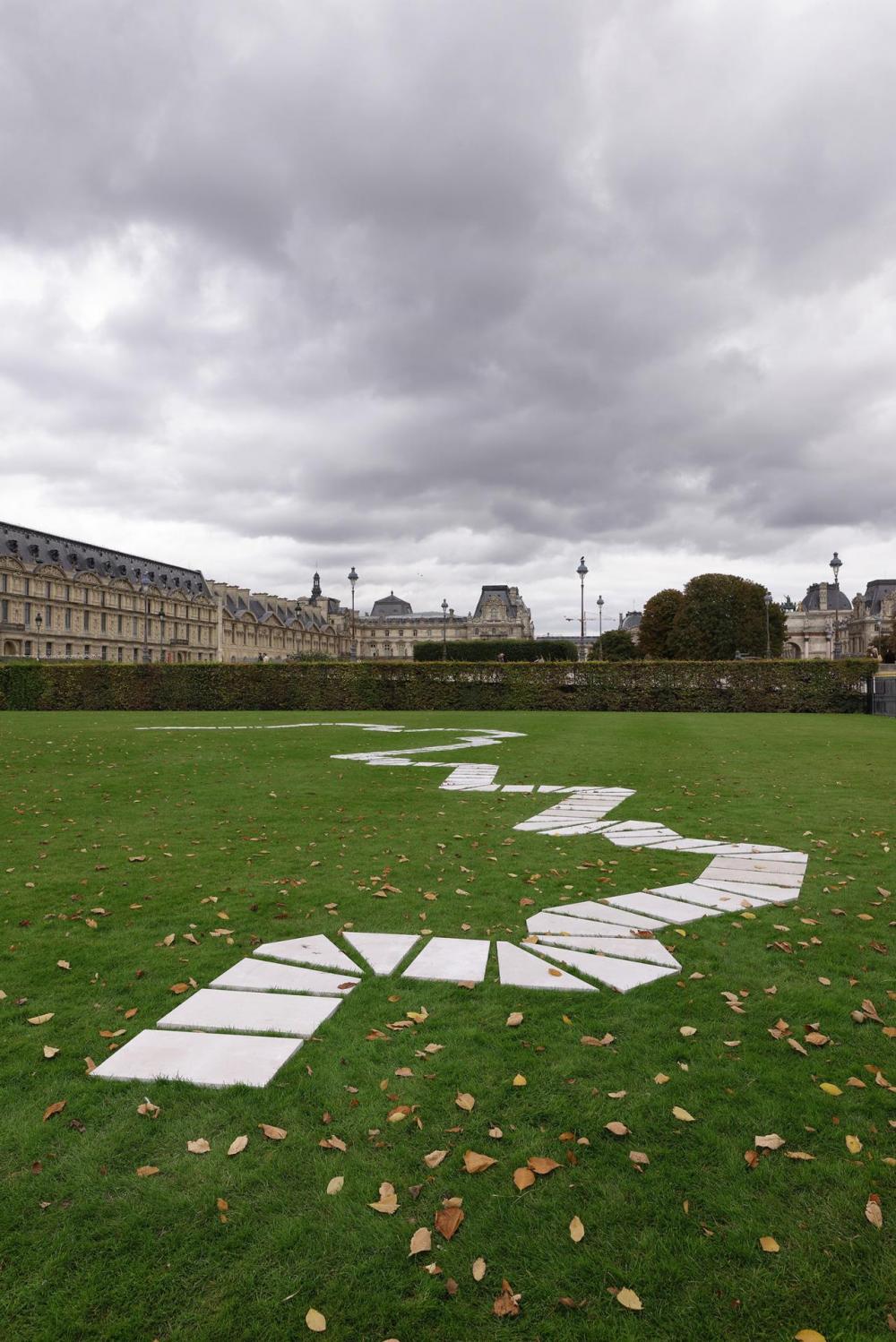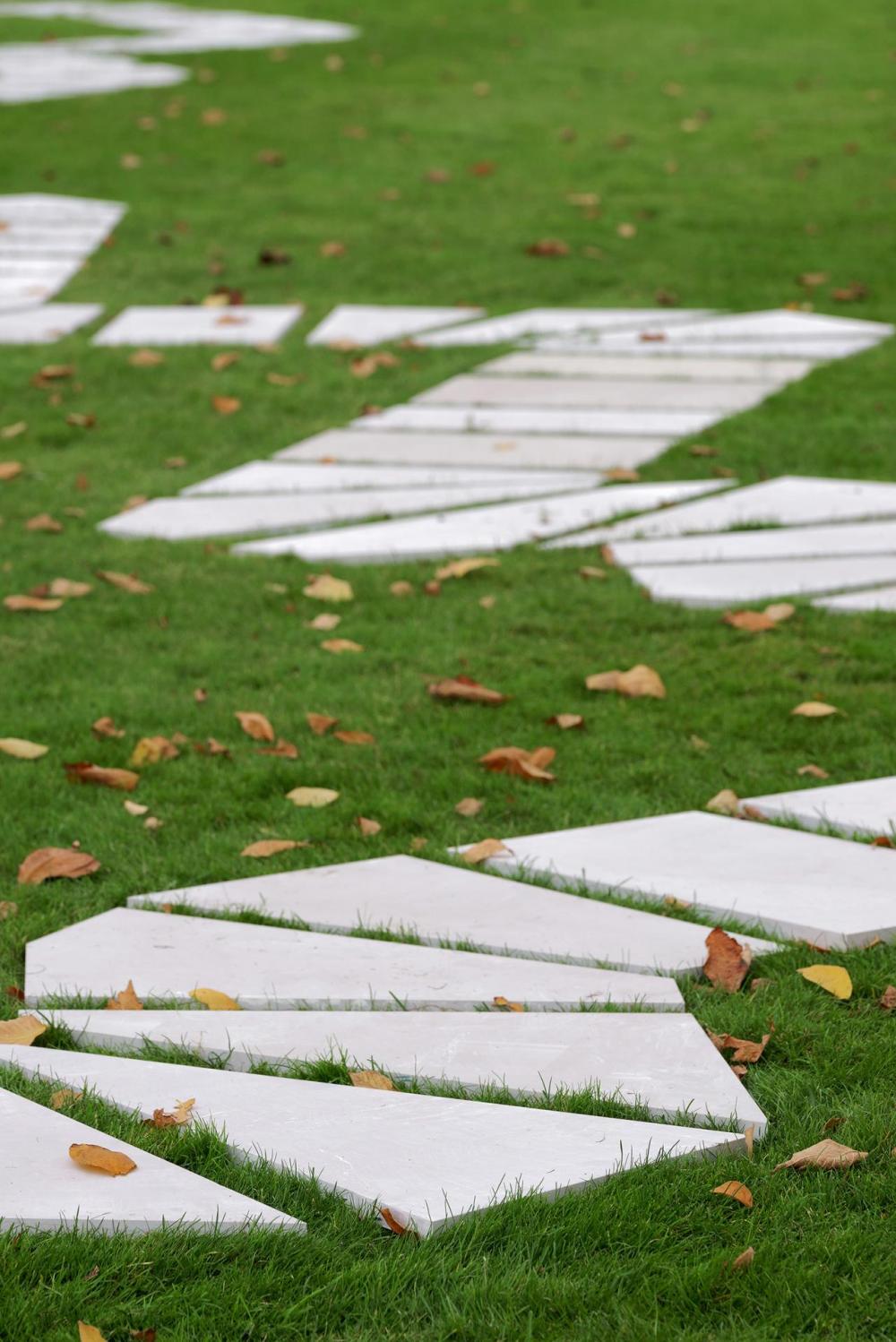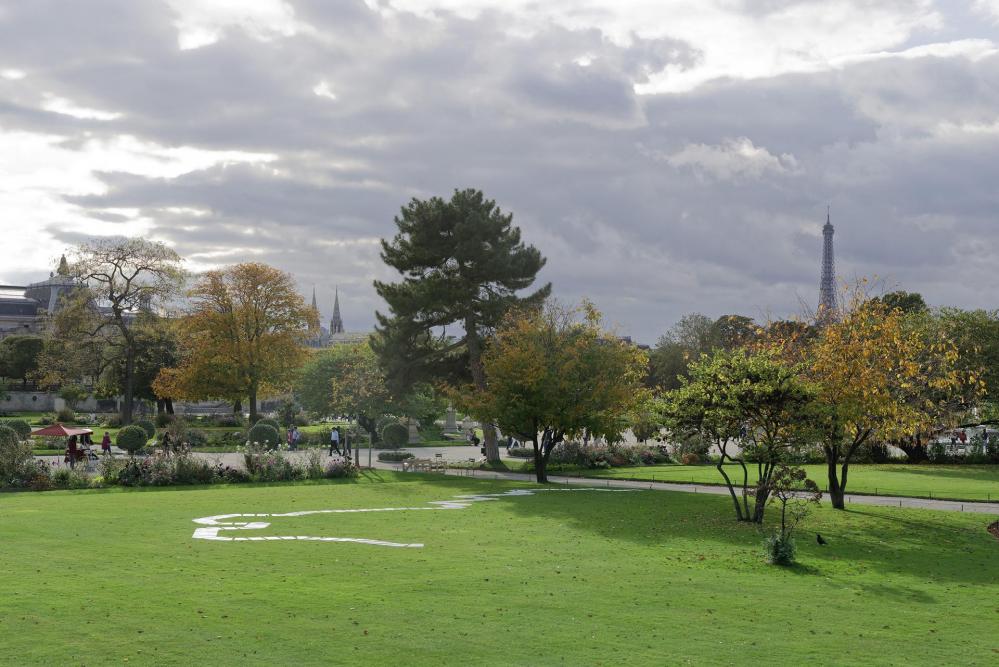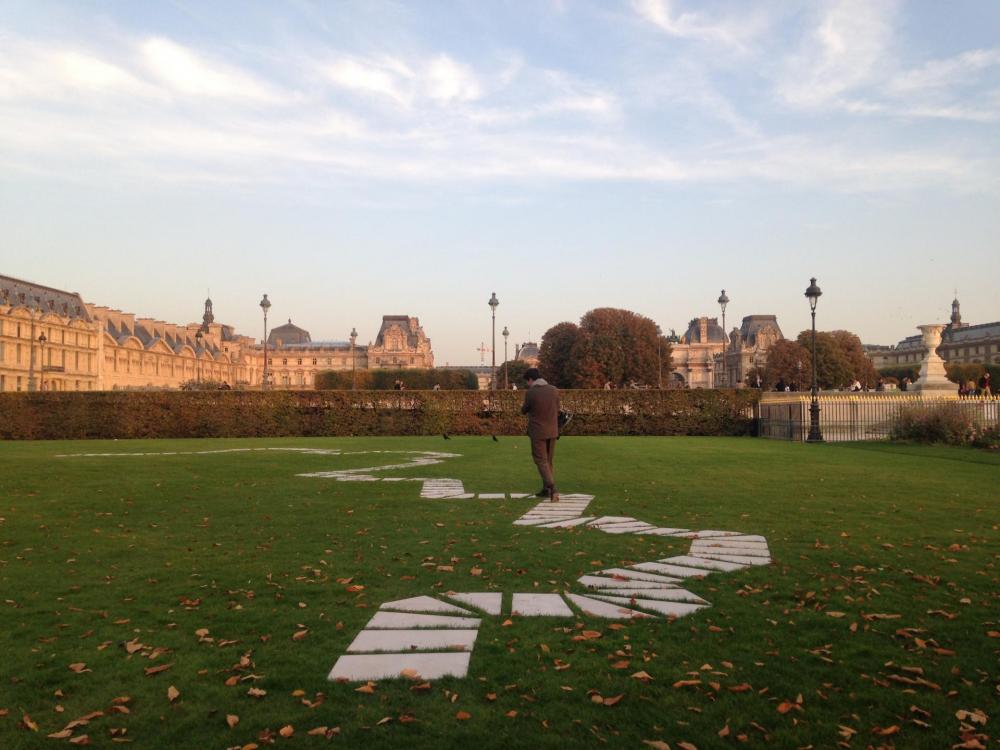 Le Chemin du Retour consiste en un itinéraire sentimental, réalisé au moyen de dalles de jardin.

L'itinéraire correspond à un trajet passé, cher à l'artiste et effectué régulièrement par elle lorsqu'elle habitait à Paris. Partant de son appartement parisien de l'époque, il la menait vers le jardin

des Tuileries.

Originellement traversé par l'artiste à pied, le trajet est reconstitué en dalles de pierre, éléments servant à traverser les parties fragiles ou impraticables d'un jardin. Taillées pour que leur

contour extérieur corresponde au trajet, elles permettent aux visiteurs du jardin de le pratiquer mentalement. Sur les pas de l'artiste, ils évoluent sur ce parcours personnel et sentimental, qui,

s'il emprunte par moments petites rues et détours inconnus, inclut également monuments, avenues et fleuve célèbres de la capitale que tous connaissent : l'École des Beaux-Arts, le musée du

Louvre, la Seine.

Le trajet n'évolue désormais plus sur la carte de Paris, mais sur une surface abstraite du jardin des Tuileries ; Beaucoup plus long initialement, il est maintenant contenu entièrement dans une

parcelle du jardin, huis-clos représentant lui-même le monde en petit. Devenu ligne, dessin, le trajet n'a plus de point de départ et peut être parcouru dans un sens ou dans l'autre.

Cet itinéraire nostalgique emmène les visiteurs à son rythme saccadé, le temps d'une promenade méditative, sur Le Chemin du Retour.
Le Chemin du Retour, 2017, 113 dalles de pierre naturelle, 2 x 60 x 2500 cm.

Vue d'installation au Jardin des Tuileries, Fiac hors-les-murs 2017, avec la galerie Anne Barrault et le soutien de Sogépierre. Photos Aurélien Mole